Palácio da Alvorada - Alvorada Palace
Brasilia is one of
the host cities
of the World Cup 2014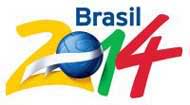 See also:

Brasília

Brasília Travel info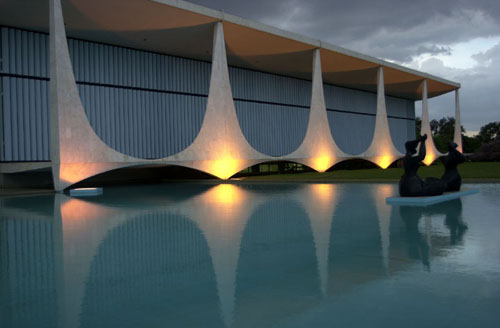 The Palácio da Alvorada, designed by Oscar Niemeyer, was the first building to be inaugurated in Brasília, in 1958 (two years before the official inauguration of the city).
The name means "Palace of the Dawn", and was given by Juscelino Kubitscheck himself, who used to say that "Brasília is a new dawn in the History of Brazil".

The palace became symbol of the modern moviment of Brazilian architecture, of cultural and technical progress of the country. Its columns became symbol of the city, and are present in the flag and coat of arms of the capital of the Republic.

Niemeyer used a combination of marble, glass and water. The symmetry of the marble columns combines with the reflex in the glass facade and in the water mirror. The columns touch the ground in one vortex, passing an impression of lightness.


Access to the Alvorada is rigidly controlled. There are no visitation tours.
The Palace is constantly guarded by a member of the Dragons of Independence. Visitors are allowed to stop the car outside the main gate (there is a parking loot, but no other facilities), which is about 300 meters distant from the Palace, and take pictures.
The President of the Republic and other authorities can be seen going in and out, but for security reasons they rarely stop to talk to the public.
The Alvorada Palace is located about 8 km from the Planalto Palace, where the President works. The Alvorada is located by the banks of Lake Paranoá, one of the most pleasant spots in the dry climate of Brasília; take a look at this
map of the Alvorada Palace
.